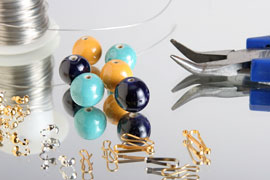 Jewelry has been used to adorn people since the dawn of time. While the creations of tribal people might differ significantly in appearance from today's creations of New York City jewelers, they both have a similar purpose. Jewelry has been used to express its wearers' individuality and personality, as well as a public display of wealth and culture.

Throughout the world there are thousands and thousands of people involved in the art of making jewelry, whether this jewelry is being displayed behind plate-glass windows of fashionable stores, or whether it is being given to friends and family. Making jewelry, like other art forms, is a wonderful way to express yourself and give an outlet to your creativity.
Recent Jewelry News
The Jewelry Industry's Design Dilemma
The jewelry industry abounds with stories of consumers walking into one jewelry store, and thinking they are in another. But it's no joke - lack of product differentiation in the jewelry industry hurts overall value. ...
By Andrea Hill, Contributor. Forbes. Friday, 17 Aug 2018 22:17:00 -0400.
Engineering student combines stylish jewelry with practical self-defense tools
A line of jewelry is keeping women safe, thanks to a young entrepreneur by giving those wearing it the ability to not have to choose between function and fashion.
KETV. Friday, 17 Aug 2018 22:46:00 GMT.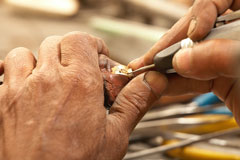 While technology has changed jewelry making, the methods themselves have changed little over the centuries. It is still possible today to make jewelry using just a block of wood held in sand and a few simple tools. While machines that produce lengths of chains, mills and presses that make sheets of fine metal, and electroplating and photoetching systems make the world of jewelry making more competitive, there is still a place for those artisans who hand-craft their jewelry.
Jewelry making is perfect for those who want to sell their wares, those who want to pursue it on a part-time basis, or those who want to make jewelry as a hobby. Today, there are many places to learn the art of making jewelry, including classes at local community centers, colleges and universities, and art schools. As jewelry makers become more familiar with the techniques and processes involved in jewelry making, their personal jewelry making styles will develop.
Jewelry-Making Techniques (Collage)
Jewelry Making Supplies
In addition to a collection of jewelry making tools, you will also need a variety of components to build your jewelry creations.
Beads. Many types, sizes, and colors of beads are available, both in bead shops and from online jewelry supply websites. Choose the types of beads you like best, whether gemstone, glass, clay, pearl, et cetera.
Findings. Findings are things like jump rings, ear hooks, and clasps. They come in different kinds of designs and metals.
Stringing material. The stringing material you choose will depend on the project you are making. For necklaces, you can buy nylon thread and coated beading wire in a variety of colors. Look for nylon thread with an attached needle, and wrapped around a card so it won't tangle. For bracelets, you may want a stretch cord.
Wire. If you are making wire wrap jewelry, you will need wire to work with. Wire comes in different sizes, shapes, colors, types of metals, and hardnesses. Beginners should start with thin, soft, and inexpensive wire, such as copper and brass.
You will also need some way to organize all your jewelry making supplies and equipment. A tackle box or tool chest may work, as long as it has lots of drawers for your beads and findings.

Once you have your tools and supplies, you are ready to start making beautiful necklaces, earrings, bracelets, and more. Many web sites are available where you can purchase tools and supplies, learn jewelry making techniques, and download jewelry patterns. For example, visit WigJig, where you can find designs and tips for making jewelry with beads and wire.
Jewelry Making Products
Fire Mountain Gems
Offers an extensive selection of beads, jewelry supplies, and jewelry designer resources.
www.FireMountainGems.com
Rio Grande
Since 1944, this New Mexico firm has been providing jewelry tools and equipment, as well as gems and findings, to jewelers and craftsmen. Website features assorted jewelry making tips plus information about their hands-on jewelry making classes.
www.RioGrande.com
Contenti
Offers a selection of jewelers' tools, metal working tools, and beading supplies.
www.Contenti.com
Related Jewelry Links
---
Jewelry Making Supplies and Techniques